Dental care: how to avoid the high cost of dental work?
As you may have already noticed, dental care costs are getting higher and higher. Indeed, 40% of dentists haven't signed an agreement to apply the government-regulated rates1 and this percentage is constantly increasing. This means these dentists can determine their own fees and charge their patients supplemental fees, with no regard for the official rates.
​
This phenomenon has created a gap between the rates charged by dentists that don't apply the government-regulated rates and the refunds payable through the Belgian National Institute for Health and Disability Insurance (INAMI/RIZIV). In other words, your staff members are increasingly expected to pay a sizeable chunk of their dental care expenses out of pocket.
These days, with the development of new tools and new techniques, dentists are able to correct most dental problems. Unfortunately, these treatments are often very costly and not or not fully covered by the Social Security.
 
What are the consequences of high dental care costs?

Due to those high costs, more and more people are simply opting to skip their annual check-up at the dentist. One out of every three Belgians never go the dentist2.
And when they finally do make an appointment, it's generally for more serious complaints that require expensive treatment. For example, for removable dental prosthetics, they will have to part with over EUR 5,000. Not to mention the impact serious dental problems can have on their productivity at work.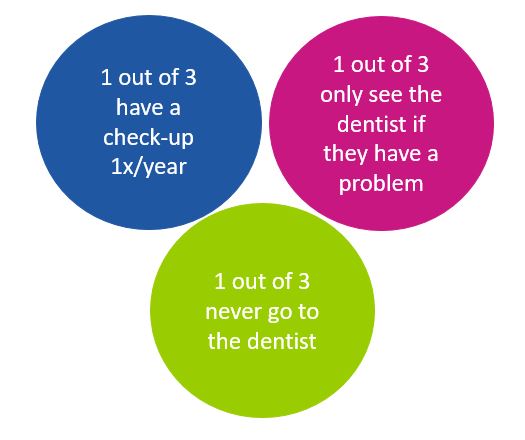 How to protect your staff members and their family against high dental care costs?

If you want to promote good preventive dental care and avoid high dental care costs for your staff members, you can take out supplementary dental coverage for them. This way, you can reward your staff for a job well done by protecting them and their families. In addition, you'll be providing new recruits with an attractive salary package and will differentiate yourself in the war for talent.
Go for a Dental Flex dental insurance plan and protect your staff members.
1 Source: Statistics INAMI/RIZIV https://www.riziv.fgov.be/fr/programmes-web/Pages/rechercher-dispensateur-soins.aspx#.XYynRPZuJaQ
2 Source: Figures from L'Agence InterMutualiste/ de Intermutualistisch Agentschap