The Doktr app: an exciting partnership between AG and Doktr
​

In 2022, AG partnered up with Doktr to bring the application to all of its employees as a pilot project. In the current context, new technologies have become increasingly important in many sectors, including healthcare, and we are proud to be part of this digital transformation. In this article, you'll find out more about the Doktr app and the partnership between AG and Doktr.​​


​Newsflash: AG and Doktr have signed a partnership agreement to support greater access to video consultations. This is a solid partnership between two Belgian companies that share the same ambitions: to create an ecosystem that supports the specific Belgian healthcare model, and to prepare for a hybrid future - a mix of physical and digital - in the area of consultations.
What can you do with the Doktr app? 
With the user-friendly and secure Doktr app on your smartphone, you get access to an instant video consultation with your own general practitioner or a qualified doctor.  
In practical terms, what are the advantages of Doktr? 
your GP or a licensed physician in Belgium

no appointment necessary

wherever you are 
Why is AG participating in this project? 
1. A trusted Belgian partner
To get this project off the ground, AG has joined forces with Doktr. Doktr is an innovative digital healthcare service provider that enables video consultations between the users of its app and healthcare practitioners in an easy, secure and user-friendly way.
2. Secure digital access to medical advice 
You can establish a secure connection to the Doktr app via itsme. Your personal data will be processed with the utmost care. For more information about the protection of your privacy, check the FAQ section "How do you collect and process my data?" on the Doktr website (

French

​ -

Dutch

​).​
3. Promoting hybrid technologies for the healthcare sector
AG and Doktr were looking to develop a future-ready hybrid care solution. The result? Doktr, a high quality on-demand medical app. The objective is not to replace in-person consultations but to offer a time-saving and flexible alternative for both practitioners and patients. This partnership is an excellent example of AG's "phygital" approach: we don't exclude face-to-face consultations but offer an alternative for those ready to embrace digital transformation.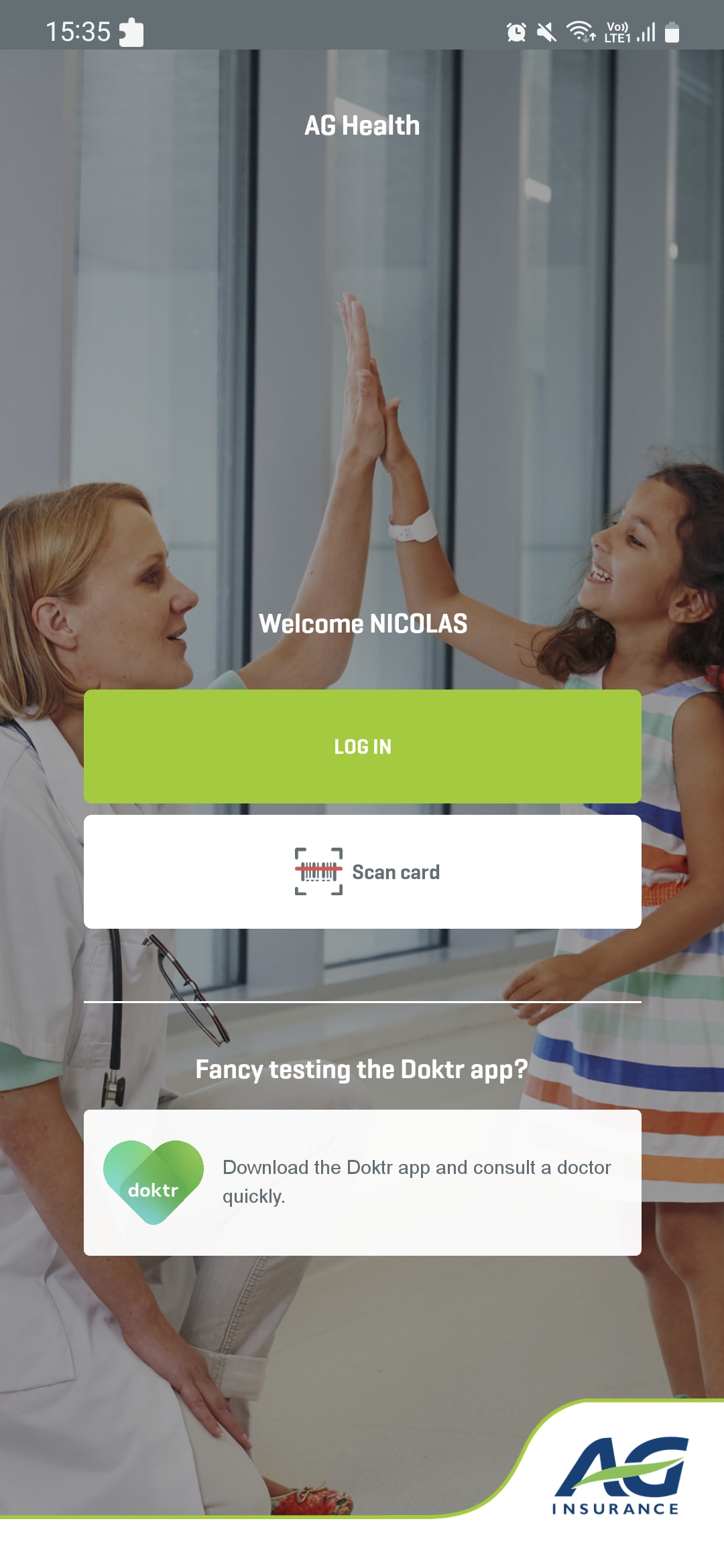 A more extensive rollout to AG customers is planned for 2023.
Have you included an AG outpatient care and/or hospital plan as part of your staff members' fringe benefits package? 
Are you interested in finding out more about our pilot project and how you can get your staff members to give hybrid consultations a try via the AG Health App?
If so, be sure to contact your usual AG contact person for more information.

​