How to contact us?
​Want to comment on an article published in an EB Minute? Change your e-mail address or sign a colleague up? Have a question for our sales or account management team?  A brief guided tour of the different options we've designed for you to contact us.
​
The EB Minute sent to your inbox contains an overview of the latest articles. At this stage, you can simply reply to this e-mail if, for example, you want to sign a co-worker up.

Interested in reading the entire article? Click on "Read more", and you will automatically be redirected to the www.agemployeebenefits.be.

Once on our website, you will find a green contact button at the top and bottom of each page. If you click on it, the following screen will be displayed: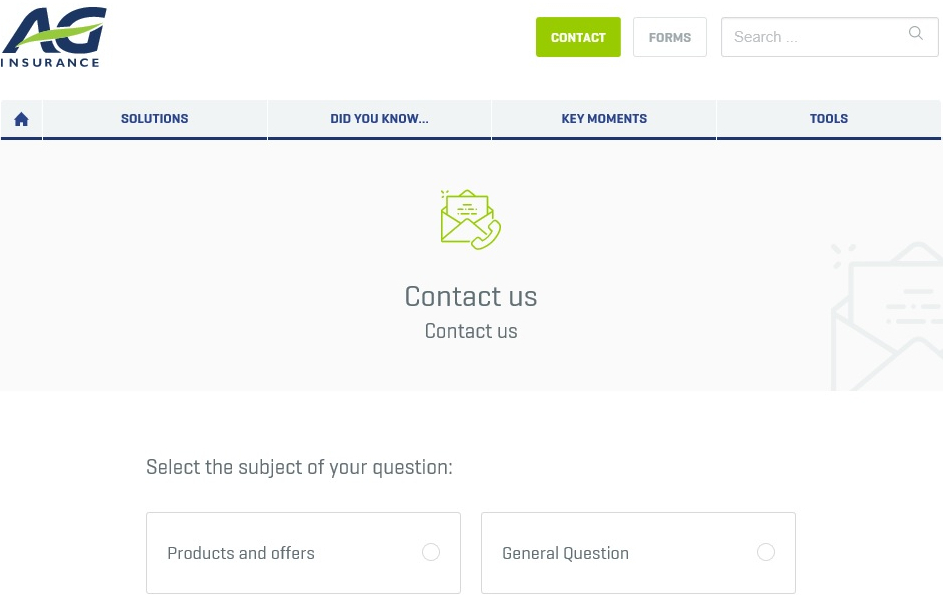 You then select your question:
either the button on the left, "Products and proposals", to ask the sales team a question
or the button on the right, "General question", to contact the account management teams
Based on the form and category you choose, your request will be directed to the team that is most qualified to assist you.

Other options for contacting us:

via your AG Employee Benefits contact person. Don't remember this person's name? Look up his/her photo and contact details on AG EB Online by logging in

here.

Your staff members can also contact us via the contact form on My Global Benefits. For direct access, click

here.

To report a hospital admission or send in medical expenses for a refund, go to

ag.be/hospi

.