All of your benefits at your fingertips!
​An innovation, courtesy of AG

The brand new MyAG Employee Benefits app is the only platform on the market that consolidates all employee benefits in one single place: supplementary pension, healthcare and income protection covers. Along with the app, your staff members will get immediate access to many new advanced services, at no extra cost!​​
​
MyAG Employee Benefits
The 360° healthcare solution in one handy app
Your staff members will soon be able to make the most of the extensive covers they can claim via their new app, plus innovative tools to support their mental wellbeing and physical health. It's also good news for you as an employer… because happy, healthy employees are more productive in the workplace.
All of your benefits at your fingertips!
AG is the first on the market to launch an app that consolidates all your supplementary pension, healthcare and income protection covers and services in one single place. What could be more advanced and innovative?
The new MyAG Employee Benefits app combines all of the convenient features of our My Global Benefits desktop platform and our AG Health mobile app and puts them into one user-friendly tool. Clear, convenient and readily accessible, this integrated solution is the ideal way for employers like you to showcase the efforts they make for their staff members. You also have the option to keep using our desktop application but under the same name, "MyAG Employee Benefits". We are also readily available via our other communication channels. ​

Innovative healthcare services
With the new app, you'll be adding the latest healthcare services and conveniences to your company plans​, in one fell swoop and at no extra cost.
With the MY MIND by AG healthcare service, all your employees can actively work on their mental wellbeing. On top of that, your health insurance plans Hospicare Flexible, Ambucare Flexible and Dental Flex are also extended as standard with MY CARE by AG and discounts offered by our quality partners to meet the contemporary care and comfort needs of your employees.
An overview:​
MY MIND by AG - active involvement in your staff members' mental wellbeing​



T

hi

s scientifically proven tool

and the

24/7 Safe2Talk helpline

give your staff members the too

ls they need to take good care of their mental wellbeing. Research shows that employees who engage in self-care activities are more likely to be productive, motivated and present at work.


MY MIND by AG is offered by default to your affiliates, regardless of their coverage. An extra sweetener, available via their app! 
MY CARE by AG - quick and easy access to high-quality medical advice

Vi

a AG, your staff members will have access to

Doktr

, the latest telemedicine app that collaborates closely with general practitioners in Belgium. With Doktr, your staff members can easily schedule a video consultation with a qualified GP (for a fee) in between their work and personal commitments. Convenience and efficiency, for you and for them.
MY BENEFITS via AG's partners - exclusive discounts and privileges



Y

our staff members will be entitled to exclusive discounts and privileges with our quality healthcare partners, boosting their overall health and wellbeing. 

Added value for all of your plan participants
MyAG Employee Benefits is now the one-stop shop for all employees enrolled in an AG supplementary pension plan, healthcare plan and/or income protection plan. It's also the go-to source to check your covers, calculate your gross and even your net supplementary pension proceeds, claim your supplementary pension when you retire, report a hospital admission and send in medical expenses.
Find out below who can make use of which new services :​​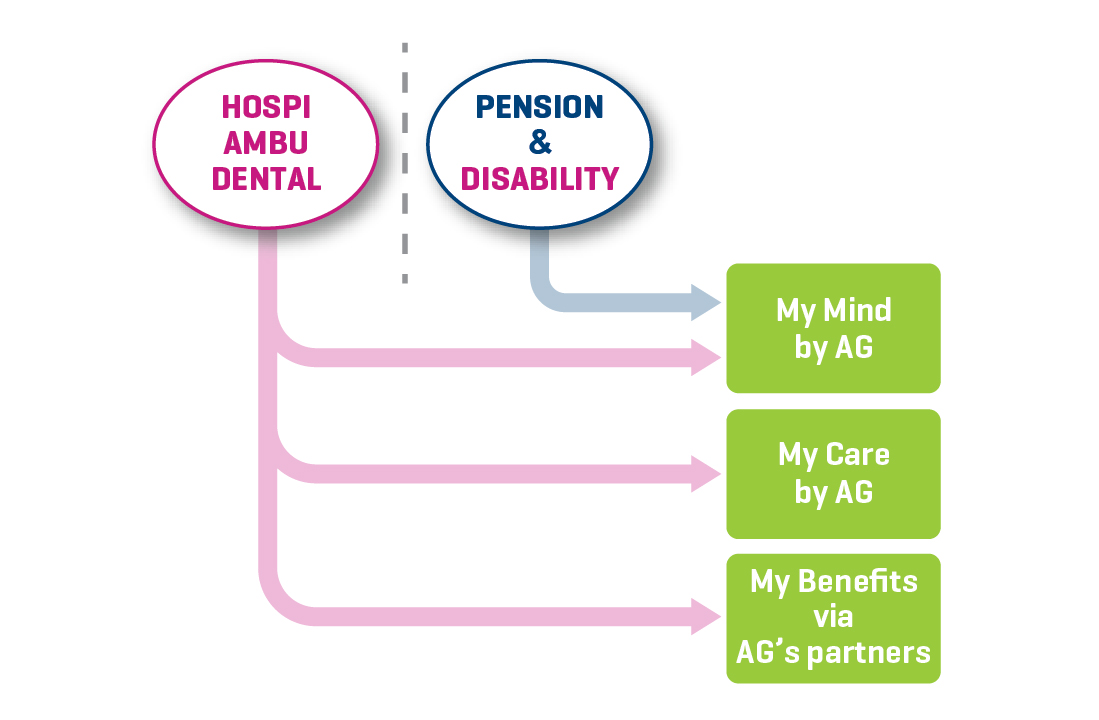 The new MyAG Employee Benefits app will be available in the App Store and Google Play store as of mid-July. Staff members that already use the AG Health app will automatically be notified of the upgrade. As of September, current and new users will be invited to get acquainted with our extended services via the app.
More to come...
Want to raise your profile and become an even more attractive employer for your staff members?
Then we have excellent news, as we'll soon be introducing our advanced Premium healthcare services! Stay tuned for our next EB Flash, where you'll find out how you can stand out from the competition with an impactful mental wellbeing policy and even easier access to medical advice at the onset of symptoms.​

Have questions? Need additional information?
Your trusted AG contact person will happily set aside time to answer all of your questions.