What is Branch 21?
 

Group insurances in Branch 21 enjoy a guaranteed return. AG enters into a long-term obligation of result, regardless of actual investment performance.


The premiums paid by employers and/or affiliates are capitalised at a guaranteed interest rate.


 
Branch 21 at AG Employee Benefits

Branch 21 group insurance with a guaranteed return continues to be by far the most popular way to save towards a supplementary pension in Belgium. As the market leader, we continue to stand behind an attractive Branch 21 product in response to employer demand for safe-haven investments. Between Branch 21 and our extensive Branch 23 offering, AG has positioned itself as your go-to source for all kinds of supplementary pension solutions on the insurance market.
How can we be sure to deliver your guaranteed return in Branch 21?

On the one hand, we mainly invest in fixed income assets and, in particular, government bonds with a high credit quality. These investments make up the core of the AG Employee Benefits General Fund portfolio, where Branch 21 products with a guaranteed return are held.​
We then ensure that the income from our investments covers our pension expenses for the next 30 to 40 years. This is commonly known as the cashflow matching strategy. All our return obligations (4.75%, 3.25%, etc.) from the past are fully hedged thanks to this method.

In order to remain consistent with the cashflow matching 
p
rinciple, we need to continuously adjust the guaranteed 
in
terest rate for our new pension commitments to reflect the 
reality on the financial markets.
​
​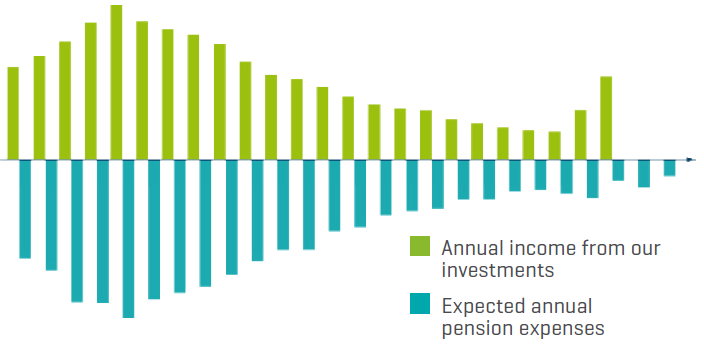 We currently offer the following guaranteed interest rate:
0.25% for plans with guaranteed reserves

0.00% for plans with guaranteed reserves and premiums
How do you earn an additional return in Branch 21?

Our portfolio is primarily invested in bonds, but also in other asset classes such as equities and real estate as well as loans and infrastructure projects (for example, the renovation of over 250 school buildings via the Schools of Tomorrow project). With these more dynamic investments, we seek out opportunities to invest in a more sustainable way as well as to add social value to the Belgian economy.
On 31st December 2021, the asset mix in our investment portfolio was as follows: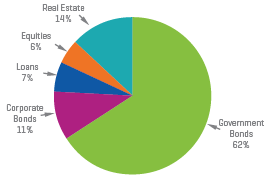 By diversifying our portfolio, we are able to generate an additional return for you in the form of potential annual profit sharing​, on top of the guaranteed return.
Since 2013, we have announced the average total minimum net returns for the coming year and the following year at the beginning of the year, per plan participant and per pension plan. These average net total returns are as follows:
2021:
1.75% on plans with guaranteed reserves
1.75% on plans with guaranteed reserves and premiums
2022:
1.75% on plans with guaranteed reserves
For the plans with guaranteed reserves and premiums, the average net total return will be determined later
Interested in finding out more about what AG does in terms of sustainability ?

At AG, we are convinced that sustainable investment is central to successful long-term investment.  This is reflected in our general investing policy (

FR

​ -

NL

) which includes environmental, social and governance factors (ESG), and takes into account sustainability risks. Therefore, all our clients can be assured their investment is made in a socially responsible way.
For the clients who would like to go an extra mile, AG now also offers different Branch 21 products following a even more advanced approach described here (

FR

-

NL

​)​.
Interested in finding out more about Branch 21?

Contact one of our sales managers for further details, no obligation whatsoever. They will be happy to assist you.
At the bottom of this page, you'll also find more articles about Branch 21 and Branch 23.​