Easing the transition back to work, 1 year later
​Targeted guidance to get your staff members with a stress-related condition (such as burnout syndrome) back to work safely and successfully. Since January 2017, we have been offering this new service as an integral part of our Income Care insurance, available free of charge. This revamped solution clearly demonstrates our commitment to putting our customers and plan participants first.
​​​
​
"Specialised treatment is just what staff members afflicted with burnout syndrome need! And it's exactly what we deliver…"

(Dr. Pia Cox, Medical Manager)
 

Staff members with a stress-related disorder require specialised care. Unfortunately, this type of treatment is quite fragmented, with long waiting times. Our solution? We provide our insureds with free, voluntary access to proactive, individually-tailored assistance.
The first phase of the programme is an in-depth personal interview, which serves as the basis for mapping out a plan to get the staff member fit for active duty again.
We have partnered with three specialised care providers to deliver this service:
​

As each of them have their own specific approach, it is up to the employer to select the partner they feel best suits their needs.

In addition, we specifically designed our assistance programme to pick up where the new regulatory return-to-work measures leave off. For stress-related conditions, the statutory programme falls short in two essential areas: treatment and the time factor.
And this is where AG Insurance's assistance programme fills in the gaps.

One year after the initial launch, our new service has met our high expectations. 80% of assistance programmes are successful. In practical terms, a staff member on long-term sick leave for a stress-related disorder will be back in the workplace after six to eight months, assuming one to three months for the start phase and an average programme length of less than five months.

This is a major achievement. Past history has shown that 50% of staff members on sick leave due to a mental disorder are still not well enough to return to work two years later.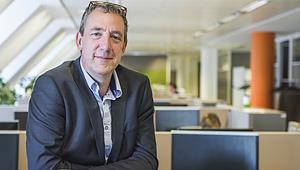 "We also opted for Income Care. It's all about demonstrating our commitment to our co-workers!"

(Jan Heyvaert, HR Director)

At AG Insurance, we also made the decision to adjust our HR policy and remuneration package to reflect the latest trends, and have opted for the newly revamped Income Care plan and integrated assistance programme.
This way, we can provide our co-workers with additional support and guidance during their incapacity leave for burnout syndrome and stress. And in Belgium, this is far from an unnecessary luxury, as the prevalence of such disorders is on the rise.
Finally, when considering a new career opportunity, potential new recruits look at the total package. Now more than ever, they value companies that genuinely care about them, their well-being and their health. Income Care is a way to highlight your commitment to being a caring employer.

Do you want to be like us and demonstrate your commitment to your staff members? Do you have questions about easing the transition back to work? Contact your account manager for a non-binding consultation.